Happy International Women's Day! Every March 8, the world celebrates the social, economic, cultural and political achievements of women.
This year's theme is "Choose to challenge" and Prevention is proud to have Nine News presenter Georgie Gardner on our cover this month discussing her passion for helping others.  
Georgie told editor Andrea Duvall: "I'm in a position where I have what's called unearned privilege, and with that comes great responsibility to be mindful, to highlight inequalities and lift up those who are marginalised, disadvantaged or through no fault of their own have experienced something awful. I remind myself to never lose sight, never lose touch."
She also admits the TV industry can be a challenging place to work as a woman.
"The scrutiny can be intense, and never more so than when I was co-hosting The Today Show," she said. "It can be hurtful, especially when your character is attacked and lies are written."
However, she said she is loving the fact that we now see older women in prime-time slots on TV.
Here are what just a few other famous Aussie women have had to say about International Women's Day 2021.
Jessica Rowe: "Today is International Women's Day- thank you to the trailblazers and our daughters who teach us so much. We've come a long way baby- but we still have a way to go."
Jessica also asked her followers to support "the remarkable @chanelc & her petition". Here's the link. 
Libby Babet: "International Women's Day. It means so many things to me, to her, to all of us who believe in defending and advancing the rights of women and girls everywhere, in all their diversity. I'd encourage everyone to jump over to internationalwomensday.com or the amazing iwda.org.au (click on the "International Womens Day" tab from the menu there) to have a read about what this date historically stood for, and continues to create waves about. You can donate from either of these pages to women's causes of your choice locally, or to help transform the lives of women facing violence, discrimination and economic disadvantage in all corners of the globe, if you have the means and the motivation to do so of course, or you could just read up on the facts and the stats, because this isn't just a day to celebrate womanhood (although let's take a moment to do that too because, as you can tell by the businesses I create and the messages I promote, I LOVE everything about the strength and care and love women bring to this world!), but a day to support the sisterhood globally, acknowledging all kinds of life experiences, struggles and breakthroughs."
Mel Shilling: "CHOOSE - I believe *choice* is such a powerful word. It's active, intentional and empowered. When women step into an active mode of choice, we tell ourselves that we have control or influence over a situation. Believing we have choice gives us agency and options in life and this is what takes us from "I wish" to "I did".
"CHALLENGE - When women *challenge* ideas, rules, expectations, boundaries, norms, behaviour, other people and ourselves, we signal to the world that we are intelligently engaged. When we challenge, we honour our own standards and values, we become clear about what we will and will not accept. The fact that Contemporary Western Women have the opportunity to challenge is a privilege (although it should be a given) and we must not waste it.
"Today, on IWD2021, let's actively choose to challenge. Let's not passively accept things as they are - in our careers, our relationships, with our bodies or our rights - let's stand up and be courageous.
"Beyond today, the real challenge is to take this courage into everyday life. This is a call to action and it's screaming "wake up sister, you deserve better!"
Bindi Irwin: "Here's to strong women. May we know them. May we be them. May we raise them."
Michelle Bridges: "She is strong.⁠ She is passionate.⁠ She is emotional.⁠ She is brave.⁠ She is WOMAN.⁠
⁠"This International Women's Day I #choosetochallenge⁠ with my 12WBT team. We stand together with those fighting for equality and the chance to speak their truth."
Ash Pollard: "To all the mums out there - you're doing a FANTASTIC job! You are definitely good enough! 'You're (absolutely) worth it' - as my old mate Eva Longoria would say in the Loreal Paris ad. That slogan has been going since the 70's and quite frankly, I'm annoyed I didn't pay more attention to it. Lippy or not, you deserve to know your worth this International Women's Day!"
Bec Judd: "It's great to see sport leading the way this International Women's Day with Cricket Australia and the SCG combining to create the first sculpture of a women's cricketer. I wonder who it will be? Billie has plenty of strong female role models to aspire to."
Megan Gale: "Here's to strong women. May we know them, may we be them, may we raise them".
"And here's to the woman who raised me and to the little woman I am raising. And I thank them both for being in my life, for choosing me and for contributing to my strength & happiness. I'm very lucky."
Erin Molan: "I'm fighting for my little girl. I'm fighting for your children. I'm fighting for all young people. I'm fighting for every single person in Australia and the world to make sure that the online space is cleaned up. I'm fighting to make sure that no one else has to go through the harrowing experience that I, and so many other people, have gone through.
"I'm fighting so that the online space is treated exactly the same as the real-life world when it comes to abuse, harassment and threats. I'm fighting so that people don't take their own lives anymore because of abuse that they have suffered at the hands of online bullies. I'm fighting for our children so that they can be safe in a world that is constantly evolving, and in a world that is constantly moving into the online space. That is who I fight for.
"My message to you this #internationalwomensday is to keep fighting. I think it's so important to never, ever become complacent - But to also acknowledge constantly how far we've come. It can be exhausting if you don't stop every now and then, look around and realise that something incredible is being achieved.
"I guess that's what I try and do. Particularly with all of the campaign work I'm doing around online bullying, cleaning up the online space and making sure our children and every single person in this country will never have to be subjected to that kind of abuse. Getting legislation introduced into parliament was an incredible achievement. We need to celebrate those kinds of wins.
"Find what you're passionate about and fight so hard for it. Whether it's for yourself, for your own opportunity, for a career you want, for a job you want, whether it's to change the world, whether it's to save someone, whether it's to start a foundation, whether it's to join a charity - whatever it is, it doesn't matter. Fight for it every single day, because it's worth it."
Melissa Doyle: "By using our voice we can bring about change, be it in attitude, process or law."
Julia Zemiro: "International Women's Day 2021. The theme this year: #choosetochallenge. Can do. Have done. Will continue to do so. For all of us."
Sylvia Jeffreys (pictured main): "Tonight on A Current Affair: The awesome, inspiring women who took on the brutal, macho world of pro surfing in the 80s and 90s. Layne, Pam, Jodie and Pauline will make you laugh, cry and shake your head in disbelief with their tales from the tour. One of the most enjoyable interviews I've ever done."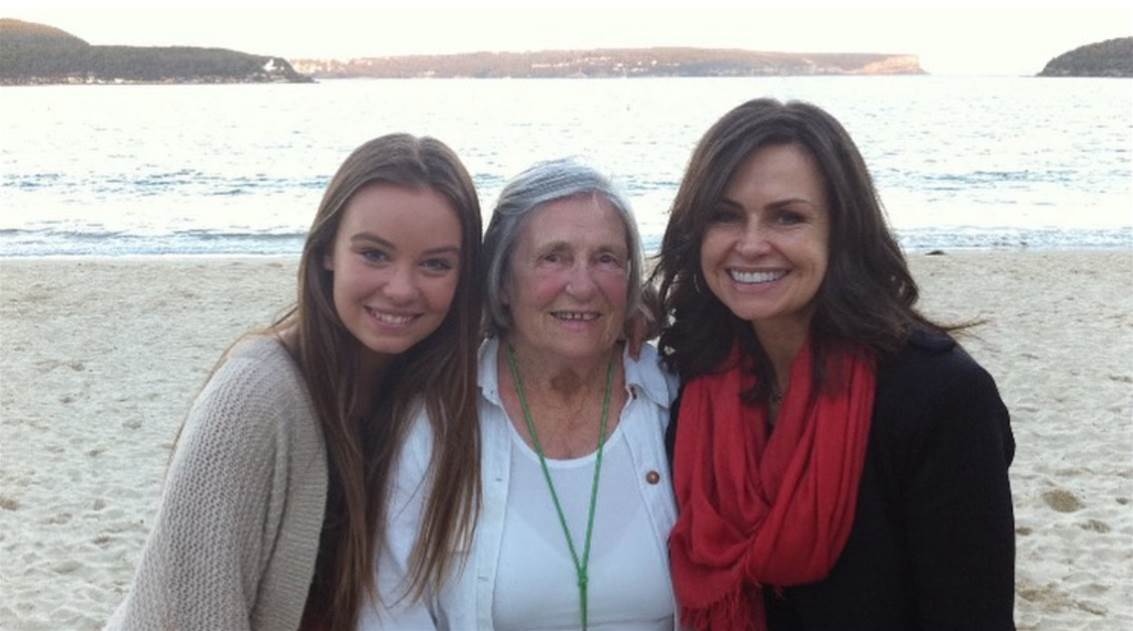 Lisa Wilkinson: "Three women, three generations, three very different life experiences...and yet so many themes still the same. Mum is gone now, but oh how different her life could have been if only... So on this International Women's Day, here's to all those brave women who came before us and too often fought silent battles. The women upon whose shoulders we now stand.

"And to the incredible rising generation of young women who are now so magnificently taking the torch and inspiring us all. From Brittany Higgins and Grace Tame, to Chanel Contos and every woman whose voices and stories are now finally being heard.

"And to those who still need time. We see you. And we are here for you when the time comes.

"Finally, to my own daughter, whose clear-eyed strength carries me on the difficult days, without her even realising it.

"Happy International Women's Day."
Tiff Hall: "Happy International Women's Day! Celebrating my mum today who taught me how to kick ass in life."
Sonia Kruger: "To my big sister Deb and the many other brilliant women who I continually learn from and grow with. Happy International Women's Day!"
© Prevention Australia
First published:

8 Mar 2021