Learn powerful tools to boost your everyday energy, reduce stress and get more life satisfaction. PLUS every guest will take home a goodie bag worth more than $250!
Over a delicious high tea you will hear from three powerful guest speakers who will teach you simple and effective ways you can get more out of life and your relationships.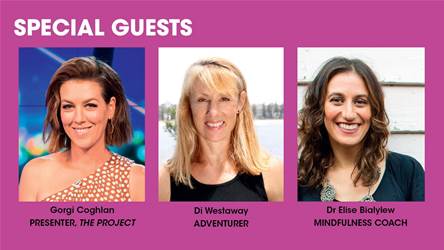 The Project's Gorgi Coghlan shares the life lessons she's learned and how she has become the best version of herself.
Di Westaway, the founder of Wild Women on Top adventure travel for women. Di says she was a worn-out 40 year-old mum of three when took her first adventure holiday. She's now a passionate advocate for fitness being the pathway to fun and living your happiest life. And she'll give you surprisingly simple tips to get more active and get more fun out life.
Dr Elise Bialylew, a psychiatrist, mindfulness expert and founder of Mindful in May. Elise's will share fascinating insights into how we can tame our busy brains and achieve a sense of calm, She'll be taking us through a simple guided meditation, and share simple steps we can follow at home to reach that inner sense of peace.
Rockport is also coming to the event to present you with the latest walking technology to keep you fit, healthy and happy!
Plus, each guest will receive a goodie bag worth $250 filled with premium beauty products and our favourite healthy treats.
Date: Tuesday, 16th July 2019, 10am – noon
Location: Langham Hotel, Southbank, Melbourne, VIC
Cost: $89 incl. GST and Fees
NOTE: Seating placement will be allocated at the time of booking, so make sure you and your friends book as a group
© Prevention Australia
First published:

13 May 2019