We know we're not the only ones already dreaming of the summer holidays, anticipating that moment when we can shake off the (draining) year that was and recharge. To really make the most of that end-of-2021 escape, we suggest taking the slow road – choosing a destination where you can settle into a more leisurely rhythm and really unwind. A place where you can stop doing and just focus on being; a place where you can let nature work its magic. Where might that be, you ask? We've found three great getaways that do just that. Plan your summer trip now so you can look forward to ending a difficult year on a high.
Walk on sunshine
Sunshine Coast Hinterland, Queensland 
(Hike up to the top of Mt Ngungun for incredible views over the hinterland).
Often it's the little things that count. Starting the morning with a perfectly made cup of coffee. Finding that special something while browsing at the local market or the racks at a well-stocked vintage shop. Hearing a tinkling chorus of bellbirds as you meander through sun-dappled bushland. If you need a big dose of small pleasures, then head for the picturesque hinterland of Queensland's Sunshine Coast. Everyone knows about the Sunshine Coast's beautiful beaches, but fewer people are aware of the delights tucked away in the hinterland's undulating hills, among them lush national parks, pretty towns and a thriving artisanal food scene.
No one is in a hurry here, so take your time as you explore inviting towns such as Maleny, with its art and craft galleries, bookshops and fabulous handmade sorbet and artisan cheeses at Maleny Food Co. Take a stroll through the magnificent Maleny Botanic Gardens, taking in its cascading waterfalls and Oriental-style lakes, or wander the trails that wind through the subtropical rainforest of the Mary Cairncross Scenic Reserve.
Other highlights include Montville, home to Montville Coffee, Queensland's first certified Fairtrade and organic roaster, and the charming, European-style Poets Cafe, which uses water from a natural spring on site. Then there's the village of Nambour (famous for its Big Pineapple), where you can digest the murals and sculptures along the two-kilometre-long public art trail or go browsing in one of the town's renowned vintage shops.
Drink in sweeping views on the trails that criss-cross the area's many verdant stretches of bushland. Stroll past palm groves and scribbly gum forest, where wompoo fruit doves call from the treetops in Maleny National Park, or feel small beside the 120-metre drop of the Mapleton Falls. For more wildlife, head to Amamoor State Forest for superb birdwatching, or to the Obi Obi Boardwalk at Maleny to see turtles, bright azure kingfishers and water dragons. If you come at dusk or dawn, you might even spy a platypus. Find out more: You can fly direct to Noosa or drive up from Brisbane, a two-hour trip. The area's top accommodation choices include the chic villas at Glass on Glasshouse and the sustainable lodgings at Mayan Farm, made of rammed earth and recycled timbers. For more itinerary ideas, see Visit Sunshine Coast Hinterland. 
Cherish nature
Huon Valley, Tasmania 
(Explore the Hartz Mountains National Park for an insight into Tasmania's remote and rugged southwest wilderness).
If you want to shift your perspective – literally – the Tahune Airwalk is waiting. There are plenty of ways to experience the lush forests of the Huon Valley, but none quite like this walkway suspended 30 metres above the forest floor, giving you a bird's-eye view of this ancient landscape. If you're not fond of heights, you can mix it up by heading underground to explore the wonderland that is Hastings Caves. Tucked away 50 metres below the earth's surface, this vast space is filled with splendid dolomite formations including stalactites, stalagmites, columns and shawls. A dip in the nearby thermal springs is a perfect way to round out the visit.
When you visit the Huon Valley, it pays to expect the unexpected. With its northern edge sitting just 30 minutes from Hobart, you can follow the slow-flowing Huon River through scenic farmland and ancient wilderness all the way down to the southernmost edge of Australia.
The photogenic towns dotted on either side of the river offer plenty of distractions along the way. In Geeveston, spend some time browsing the studios and galleries – don't miss Mikkris House, where woodturner Ross Patson-Gill crafts bowls, vases and more from aromatic timbers including sassafras, willow and oak – before taking a stroll to discover the life-sized wooden statues of local characters sprinkled around town. Grab a coffee at the charming Old Bank cafe before moving on to Willie Smith's Apple Shed for a lunch that showcases the best local produce. Food lovers should follow their nose to the Farmhouse Kitchen near Huonville, where the delightful Giuliana passes on the secrets of Italian home cooking, or to the quaint hamlet of Cygnet, where homewares shops line the main street and the wood- fired oven in the Red Velvet Lounge turns out flavour-packed dishes such as braised lamb belly as well as crispy pizzas.
Allow plenty of time for outdoor adventures, too. Steer a kayak down the tannin-stained Lune River or take a hike through the Hartz Mountains National Park, a rugged landscape carved out by ancient glaciers. There are a bunch of challenging routes, including the Hartz Peak track, but also easy trails with stellar views, including the walk to Arve Falls. For a truly memorable experience, head south until you reach the end of the road. That's where you'll find the start of the 16-kilometre South Cape Bay Track, which leads you all the way to the southern-most point in Australia, passing through eucalypt forest, marshlands and fern-filled valleys along the way.

Find out more: A number of airlines fly direct to Hobart. Wake up amid the trees at Huon Valley Glamping, or choose one of the private villas available through Essentially Tas Accommodation (essentiallytas.com). For itinerary ideas, see the Southern Edge itinerary at Discover Tasmania.
Dip into paradise
Merimbula, New South Wales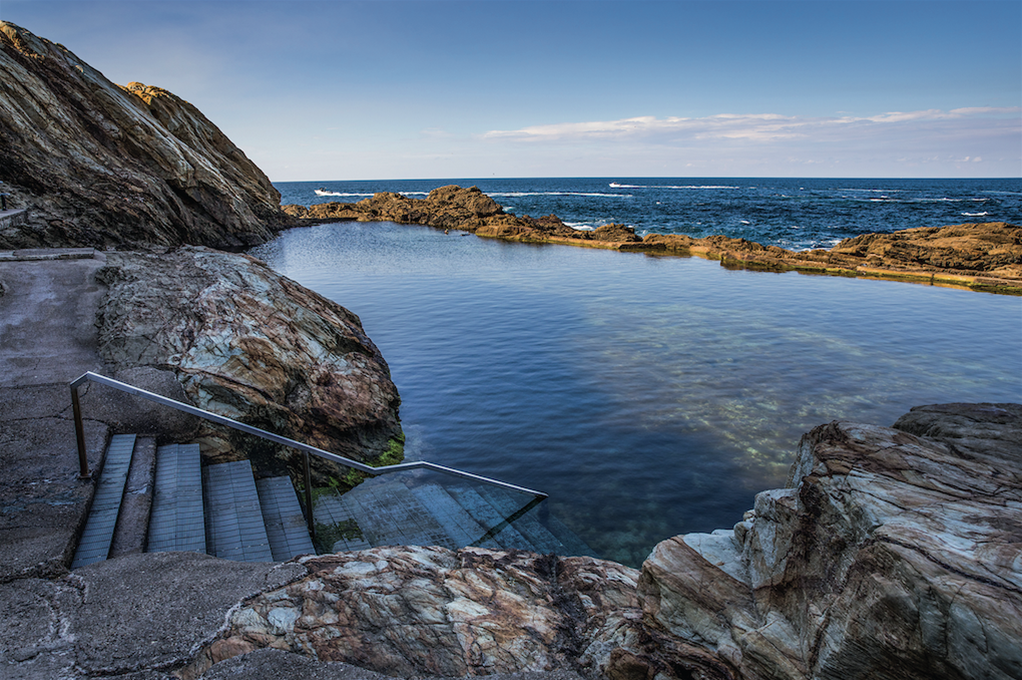 (Step into rock pool paradise at the famed Blue Pool in Bermagui).
Is there anything better than waking up in the morning knowing your most pressing appointment of the day is down at the beach? Well, perhaps just one thing – and that's knowing that you have a whole range of them waiting to welcome you. Even in a country as blessed with coastal getaways as Australia, the Sapphire Coast town of Merimbula is something special.

It isn't just the town's five-kilometre-long sandy beach that sets it apart; it's the fact that there are so many other beaches to choose from in all directions. Whether you feel like swimming or bodysurfing, snorkelling or just taking a long walk, the perfect spot is never too far away.
Take Tathra Beach, where wallabies and kangaroos graze in the early morning and late afternoon, or nearby Kianinny Bay, where you may spy stingrays as you snorkel through gin-clear waters. Dive into one of the swim spots around Bega, such as Cuttagee Beach and Lake, or the Blue Pool in Bermagui. Or head to Pambula, where you can pick between Severs Beach, set in the national park, and the tranquil Barmouth Beach at the river mouth, beloved by beach fishers, who catch salmon and tailor for supper in the surf, or fish for bream in the river waters.
Of course, there's more to do around here than just get wet. You might hire a kayak and explore its bays and rugged headlands, or hire a mountain bike to tackle the 55 kilometres of trails near Tathra, or put your best foot forward on a hike through one of the area's national parks. Among the loveliest is Mimosa Rocks National Park, home to giant tree ferns, soaring spotted gums and delicate hyacinth orchids, as well as black cockatoos and king parrots that dart amid the treetops.
The local food scene is also surprisingly sophisticated. At Pambula, the Wild Ryes Baking Co turns out superb breads and pastries, while well-crafted three-coursedinners are served down the road at Banksia, housed in a restored former bank. The area's best taste sensation, however, is its creamy, briny Sydney rock oysters. This is one of Australia's best oyster regions, so take an oyster farm tour to learn more about these amazing molluscs, or simply tuck into a dozen (or two) at oneof the local restaurants. Find out more: Qantas and Rex Airlines both fly to Merimbula. For a back-to-nature feel, try the gorgeous glamping tents at Tanja Lagoon Camp, each one kitted out with a queen bed, ensuite and deck. Prefer a seaside setting? Coast Resort Merimbula's apartments sit just back from the beach. For more ideas, see Visit NSW.
 .What to pack: 
1. HYDRATE with a reusable ceramic water bottle.
2. LOOK your best in a flattering swimsuit.
3. PROTECT your peepers with quality sunnies like these Guess sunglasses.
4. COVER up with a quality SPF50+ sunscreen.
5. PACK it all in with this market tote.
6. UPGRADE your flip flips for these comfy beach slip-ons.
© Prevention Australia
First published:

22 Jan 2022