A belly full of warm, comforting food to start your day is just what the dietitian ordered for these chilly, winter mornings. But if the only thing you've got in your nutritious breakfast repertoire is oats, you've come to the right place. Here are five hearty and healthy breakfast ideas you can make to start your morning right.
1) Shakshuka with wholegrain bread
Ingredients
Serves 2
1 tsp olive oil
1 small onion, diced
1/2 tsp salt + pepper
1 garlic clove, minced
1 tin white beans (cannellini, broad, etc), drained and rinsed
1 cup passata or 1 tin of diced tomatoes
1 packed cup of spinach or kale
2 eggs
Directions
1. Heat a pan over medium heat. Add olive oil and onion and cook until softened.
2. Add in salt, pepper, garlic, beans, passata sauce and stir to combine. Let this reduce down for about 5 mins then stir in the greens.
3. Make 2 small divots into the sauce and crack the eggs in. Cover the pan with a lid and let simmer until the eggs are to your liking (about 5 mins for runny, 7 for medium and 8 for fully cooked).
4. Enjoy it warm directly from the pan with a slice or two of wholegrain bread or serve it up on plates.
2) Easy oat pancakes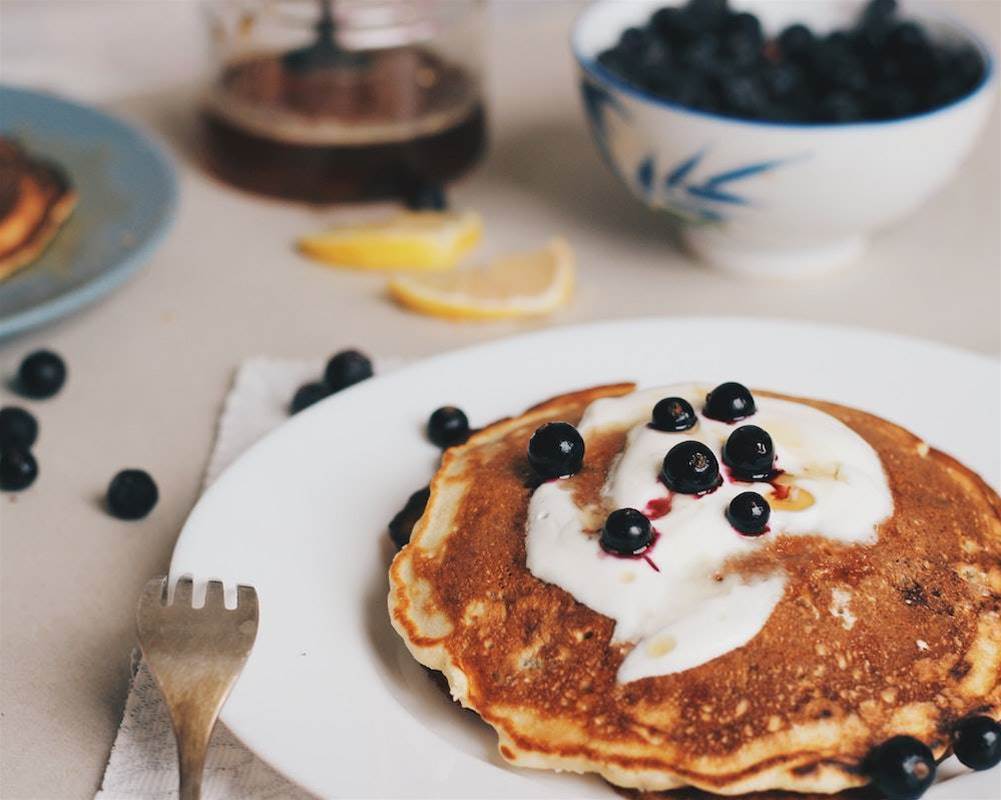 Ingredients
1 cup rolled oats
1 ripe banana
1/2 cup milk of choice (cow's, almond, soy, etc)
1/2 cup Greek yoghurt
1/2 tsp cinnamon
2 tsp sweeter (honey, white sugar, brown sugar, etc)
Garnish
1/2 cup berries
Maple syrup
Nut butter (peanut, almond, etc)
Directions
1. Add all of the ingredients to a blender and blend until smooth. If you don't own a blender, you can simply combine all ingredients in a bowl and mash banana until smooth.
2. Heat a fry pan on low-medium heat. Coat with non-stick spray or a small amount (1 tsp) margarine.
3. Scoop batter into pan and allow to sit untouched until you see bubbles form, and stay, all over the top of the pancake. Flip it over and allow to sit until the bottom is golden brown (you can check this by picking up a side with your spatula).
4. Enjoy your pancakes topped with a garnish of berries, maple syrup and nut butter, or whatever you want to put on top. Remember to have a piece of fruit with your pancakes like an orange or apple.
3) Breakfast sandwich with fried egg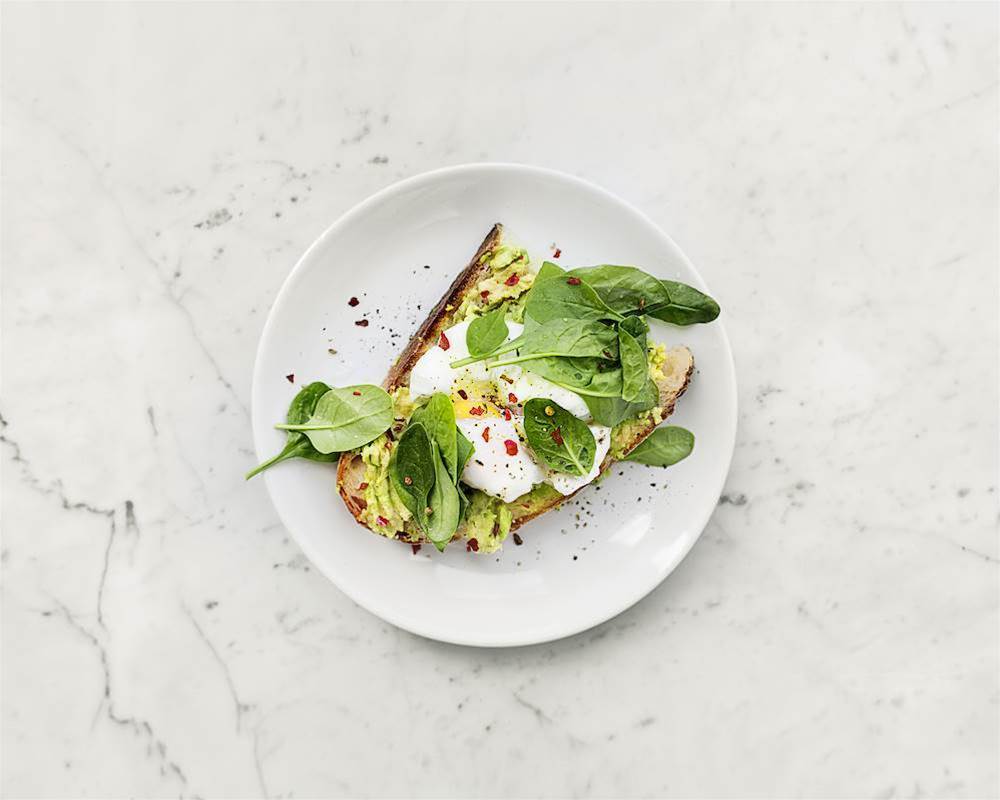 Ingredients
2 slices whole grain bread
1 tsp olive oil
1/2 small onion, diced
1/2 small capsicum, diced
1 cup spinach
Pinch of salt
1/2 tsp pepper
1 egg
2 tbsp hummus or spread of choice
1/2 avocado, sliced
Directions
1. Toast your bread.
2. Add olive oil, onion, capsicum, spinach, salt and pepper to a pan over medium heat. Cook until onion is soft and spinach has wilted.
3. Move this mixture to the side of your pan and add in your egg to fry it. Cook to your liking. Add your spread to the toast, top with your veggie mix, the fried egg and avocado. An easy sandwich ready in about 10 mins!
4) Grab-n-go almond, cranberry and oat bars
On the days that you just need something to pick up and go, these oat bars are perfect paired with a piece of fruit. These can be made days before and kept in the fridge in an air-tight container.
Ingredients
1 cup packed medjool dates (easiest to find and oh-so sticky!)
1/4 maple syrup or honey
1/4 almond butter
1 1/2 cups oats
1/2 cup dried cranberries
1 cup unsalted almonds
Directions
1. In a food processor, chop the dates until they form a ball.
2. In a small bowl, add the maple syrup and almond butter and put in the microwave for about 20 seconds. This will make it more pourable.
3. In a large bowl, add the oats, cranberries, almonds and dates. Pour over the almond butter/syrup mix and string to combine.
4. Line a baking dish with parchment paper and pour in mixture, pressing it into the dish with your hands until it's in a uniform layer.
5. Put the dish into the fridge for 30 mins to harden so you can cut it into slices. Once you've cut them into squares, you can keep them in an airtight container for up to a week. Grab a bar and a piece of fruit in the morning for an easy brekkie!
5) Egg muffins
Ingredients
1 tsp olive oil
1 medium onion, diced
2 cloves garlic, diced
200g mushrooms, chopped
1 small head broccoli, roughly chopped into bite size pieces
1 packed cup baby spinach, roughly chopped
1 capsicum, diced
6 large eggs
Non-stick spray
Directions
1. Heat a frying pan over medium heat.
2. Add the olive oil, onion, garlic and mushrooms. Cook until the mushrooms begin to brown and the onions are soft.
3. Preheat your oven to 180℃.
4. To a large bowl, add mixture from the pan along with the broccoli, spinach and capsicum.
5. When cracking this many eggs into a recipe, it's important to not get any shell. Instead of cracking directly into the main bowl, crack each individual egg into a smaller bowl to check for shell then transfer into the big bowl. Stir to combine.
6. Lightly spray your 12-muffin tin with non-stick spray before adding equal amounts to the tins with your egg mix.
7. Bake for 15-20 mins or until the eggs are firm.
8. Let them cool a bit and eat immediately with a slice of toast, save some for leftovers in an air-tight container, or freeze them for another time! They can be easily reheated in the microwave from frozen as a quick breakfast.
This article first appeared on healthandperformancecollective.com and is republished here with permission.
© Prevention Australia
First published:

19 Jul 2021