Throughout childhood, mums are always there for the hard stuff—to help fold laundry, clean your room, and offer prompt after-school pickups. As life goes on, they become supportive confidants who are always a phone call away. They truly wear so many hats—and most of the time, do so without complaint—which is why they deserve to be celebrated every day, and on Mother's Day, are entitled to the extra mile.
So after you whip up a tasty brunch, pick out a thoughtful gift, and write a meaningful Mother's Day card this year, make her feel extra loved by letting the world know how great she is with an honorary Instagram post. Whether you pull together a handful of pictures from throughout your lifetime or snap a new pic on Mother's Day, the gesture is bound to warm her heart. (And of course, she'll want to re-share it to Facebook.)
The trickiest part of this social media moment won't be choosing the filters or the hashtags, or even narrowing down the best shots. What will really set it apart (especially if you have competitive siblings) is writing a thoughtful caption to go along with it. Nope, heart emojis just won't cut it.
Mum is worth your strongest caption game, but if you don't have it in you—don't worry. We've rounded up some hilarious, cute, and inspiring quotes that will at least get you started.
Read on for the best Mother's Day Instagram captions that are bound to get all the double-taps—and some extra special treatment from Mum herself.
Funny Mother's Day Instagram Captions
She's not a regular mum, she's a cool mum!
Motherhood: Powered by love. Fuelled by coffee. Sustained by wine.
Nothing is actually lost, unless your mum can't find it.
Dear mum, I know I'm the favourite child.
Cheers to the woman who gave up wine for nine months just for me.
Thanks for always loving me, even through all of my awkward phases.
Dear mum, I get it now.
I got it from my mama!
Mum—you're definitely one of my favourite parents.
Mothers don't sleep. They just worry with their eyes closed.
Mum, I turned out awesome because of you.
A mother's work is never done, but today, you deserve a rest.
Nacho average mum.
My mum always told me to told me to save water by drinking champagne.
Sometimes when I open my mouth, my mother comes out.
Cute Mother's Day Instagram Captions
Home is wherever your mum is.
No matter how old she is, sometimes a girl just needs her mum.
Mum is the glue that holds our family together.
Behind every great woman is an even greater mother.
If I didn't have you as a mum, I'd choose you as a friend.
Always my mum, forever my best friend.
Who needs a superhero when you have a mum?
Life doesn't come with a guidebook—it comes with a mum.
Keep calm and call mum.
Mum, I don't know what I'd do without you.
No matter how much I say I love you, I always love you more than that.
Thanks for always being my crying shoulder.
I love you a latte.
Mum: a title just above a queen.
To the world, you are a mother but to our family, you are the world.
Mother's Day Captions Inspired by Quotes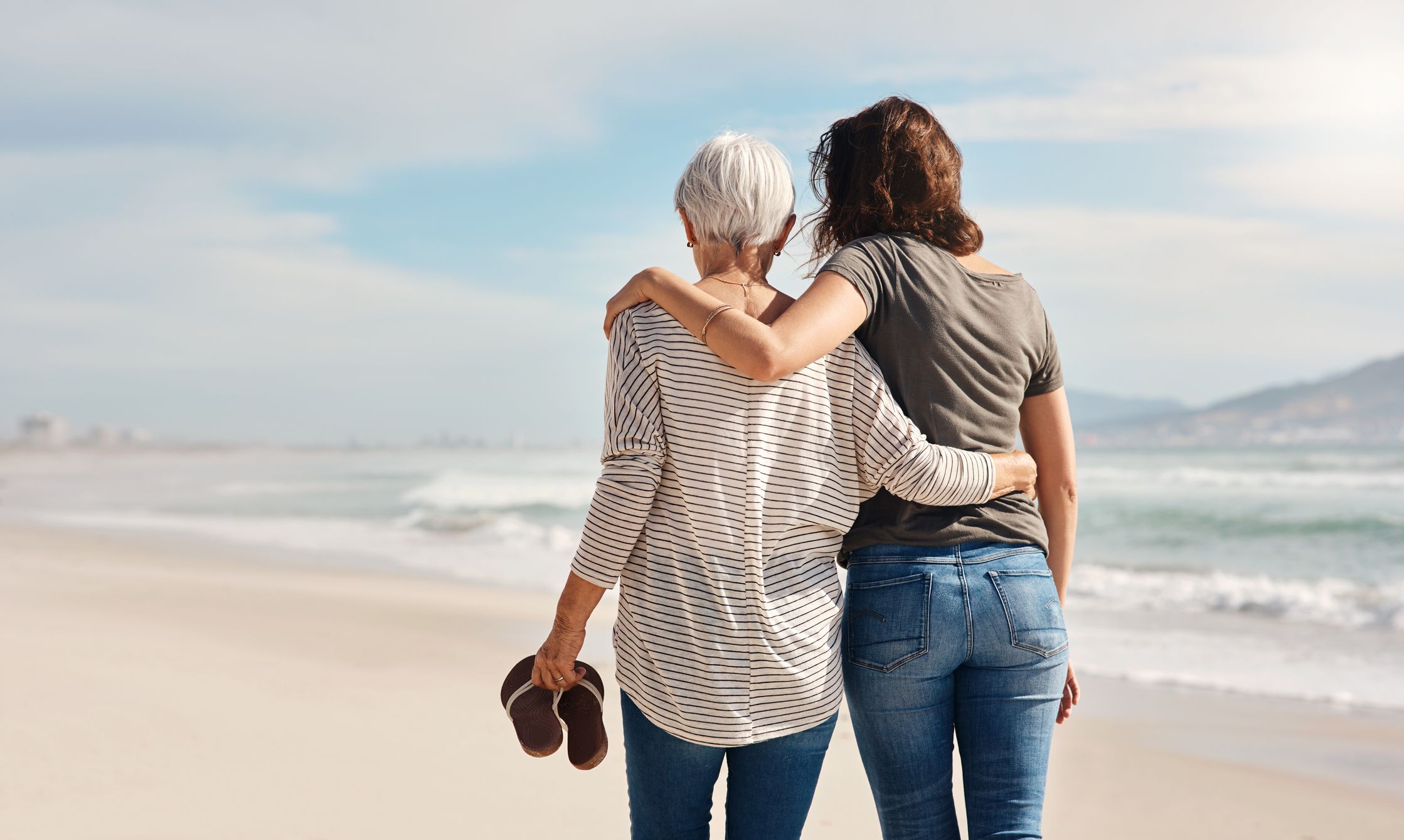 "A mother's arms are more comforting than anyone else's." — Princess Diana
"My mother's love has always been a sustaining force for our family, and one of my greatest joys is seeing her integrity, her compassion, her intelligence reflected in my daughters." — Michelle Obama
"It's not easy being a mother. If it were, fathers would do it." —The Golden Girls
"The best place to cry is on a mother's arms." — Jodi Picoult
"It doesn't matter how old you are, or what you do in life—you never stop needing your mum." — Kate Winslet
"We are born of love; love is our mother." — Rumi
"When you look into your mother's eyes, you know that is the purest love you can find on this earth." — Mitch Albom

"All that I am or hope to be, I owe to my angel mother." — Abraham Lincoln
"A child's first teacher is its mother." — Peng Liyuan
"I believe the choice to become a mother is the choice to become one of the greatest spiritual teachers there is." — Oprah Winfrey
Song Lyrics as Mother's Day Captions
"I only love my bed and my mama, I'm sorry." — Drake
"She said I don't care if you're 80, you'll always be my baby." —Blake Shelton
"You might have a mum, she might be the bomb, but ain't nobody got a mum like mine." — Meghan Trainor
"I'll be your shoulder when you need someone to lean on. Be your shelter when you need someone to see you through. I'll be there to carry you." — Reba McEntire
"So, mother, I thank you, for all you've done and still do; You got me, I got you, together we always pull through." — Christina Aguilera
"You've given me everything that I will need to make it through this crazy thing called life." — Carrie Underwood
"I know you were on my side even when I was wrong; And I love you for giving me your eyes, staying back and watching me shine." — Taylor Swift
"I admire you for the strength you've instilled in me." — Justin Bieber
"The only thing I ever had was you, it's true; And even when the times got hard you were there to let us know that we'd get through." — Good Charlotte
"For all the mothers fighting for better days to come and all my women, all my women sitting here trying to come home before the sun. And all my sisters coming together say yes I will, yes I can!" — Alicia Keys
Mother's Day Captions for Step-mums
You didn't give me the gift of life, but life gave me the gift of you.
Not step. Not half. Just family.
You're not a spare mum, you're an extra blessing.
"You may not have my eyes or my smile, but from the beginning you had my heart." — unknown
Who needs a fairy godmother when there are stepmoms?
Parenthood requires love, not DNA.
"Being a mother is an attitude not a biological relation." — Robert A. Heinlein
Thanks for "stepping up" for me.
Marriage brought us together, but being a family is just what's in our hearts.
"Sometimes the strength of motherhood is greater than natural laws." — Barbara Kingsolver
For more recipes and articles by Prevention on beauty and wellbeing, ​sign up to our weekly newsletter.
© prevention.com
First published:

20 Apr 2021